Nos collaborateurs - Témoignages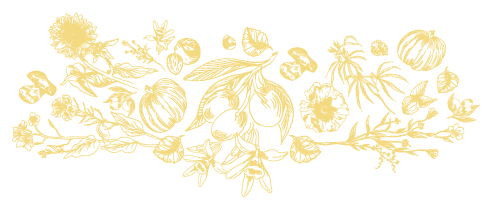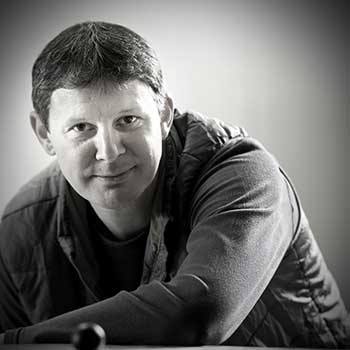 Olivier DESCHAMPS
I joined the Huilerie because I've known Jean-Marc since I was a child, but I wasn't familiar with the product at all, and I never intended to stay for that long. As it turns out, I've seen a century of technical progress in twenty years, the various stages in the company's progress, in the equipment, but also in the way the public's view of it changed little by little. Since I come from a woodworking background, I find the same artistic side here: the fact of transforming a fruit, managing to enhance it to the point that it can accompany dishes designed by great chefs. But when Jean-Marc started his business, everyone thought he was nuts! People see oil as basic, they never get past frying oil. They don't see the taste aspect, never imagine that it could be used as a seasoning product. It's surprising, as time goes by, you realise that it can be worked on. Being a bit of a chemist is still a big part of this. I can just see us in my mind again making colza; we went at it with sieves like gold miners. We were supposed to clean the seeds that arrived straight from the field, and I would sometimes say to myself "what the heck are we doing here?" We were making 400 kilos whereas these days we make 1.5 tons; no one would have thought that, thirty years later, the Huilerie Beaujolaise would have become what it is today!
---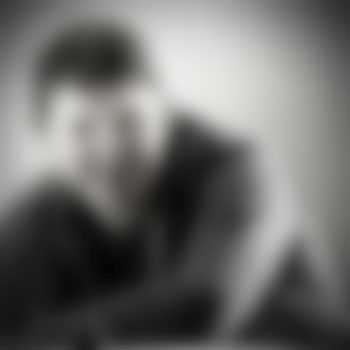 Patrick DUVERNOY
Like several of my co-workers, I joined the Huilerie Beaujolaise so I could enjoy my family life since I live in Les Ardillats, it's incredibly convenient! Because of my disability, I could no longer keep working as an industrial maintenance technician, but my past experience means I can understand how any machine operates. At the Huilerie, I work on hydraulic presses that are very interesting, extremely specific: they go up to 400 kilos; these aren't toys to play around with! We're lucky enough here to take part in everything from A to Z: we receive the seeds, we grind them, heat them, press them, filter the oil, and we bottle it. It was a big change for me because, in the industrial world, you're often limited to a single part of the process. What's more, we're really lucky: in other sectors like the steel industry, the smell of metalwork and the heat aren't necessarily pleasant, whereas we work amidst the smell of the fruits! The secret of our production lies in communication, everyone gets on well, which means we can count on each other and we always manage to sort things out! That's also why such a small company, right in the heart of the countryside, can perform so well!
---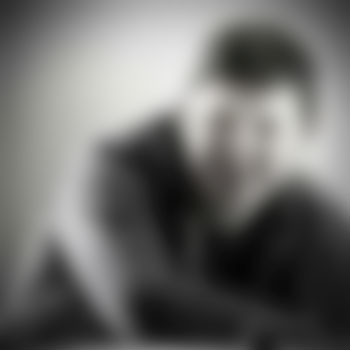 Jessy GARNIER
Even before joining the team, I'd already noticed the sense of cohesiveness at the Huilerie Beaujolaise: I hadn't been recruited yet and had been invited for drinks to celebrate Olivier's twenty years in the company, along with all the staff members! From the minute I was welcomed, I noticed that spirit, I immediately felt that this was a place for me. There are no degrees for this profession, but you're far from feeling lost when you get there! The staff pass on their know-how, their techniques, everything they've learned from seeing Jean-Marc do things, and switching from post to post allows you to master the whole procedure and work alongside the many talents at the Huilerie. We don't bump into each other just to say hello! And then the fact that our recipes are 100% fruit is something I liked: in an industrial oil, you can see the list of added ingredients, and with us it's the fruit, and that's it. No preservatives, nothing! The fact that it's produced to the highest standards, that the customised aspect stands out, just adds to the satisfaction and creates a feeling of accomplishment in relation to the finished product: I can show my family a bottle and say "You're about to taste some oil, and we made it"! There was I, thinking I was entering some little company in the Beaujolais, then seeing that our products can be found at Michelin-starred restaurants and abroad, it's funny and rewarding at the same time!
---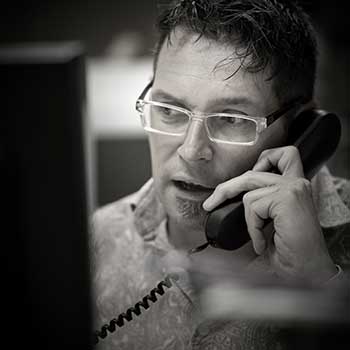 Pierre JAMET
They say that some products sell all by themselves; our oil is a bit like that! Personally, I don't have the right temperament to be a salesman, I inevitably get excited just talking about it, because it's so beautiful, delicious, and has absolutely nothing to hide. Coming from a mixed cultural background with French-German parents who met in Sweden, I can really relate to the international aspect at the Huilerie: like Obelix, I've been immersed in that since I was very young! My role in exports has allowed me to encourage trips to Belgium, Holland, Germany, Italy, and even to the Scandinavian countries, to pay a visit to long-time customers, explain how our oil is made, and take things beyond a mere sales relationship. That's how I came to meet Hans Peter Kolbek, Denmark's answer to Paul Bocuse; after having breakfast with him in Kracow, I was on cloud nine! Never did I dream that I'd experience this type of adventure here or anywhere else, never did I imagine that such an opportunity would one day be offered to me. The Huilerie represents thirty years of existence, exports to twenty-eight countries – but those aren't just figures. What it represents most of all is a great deal of passion, devoted individuals and a perseverance that I love to communicate.
---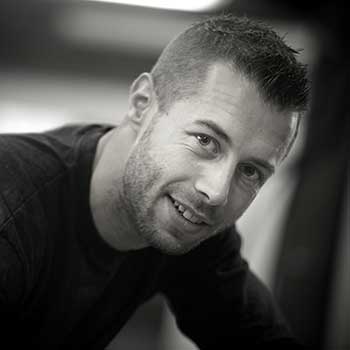 Gregory LACHAT
After working for fifteen years in the restaurant world, the chance to switch to the other side immediately appealed to me. Originally I was doing a one-week try-out, and I got along so well that after two days, they hired me: it's just amazing to receive the fruit, process it, learn all about hydraulics, mechanics, doing the machine repairs yourself when a minor issue arises. I wasn't any good at DIY before this, but now it's in my skill set! Everything is home-made here, and although my brother-in-law works there too, that family atmosphere is present everywhere in the way we operate. I love producing peanut oil using the old mill, making it based on taste, appearance, smell, getting back to putting all your senses to work! Now I've moved to delivery, which puts me in direct contact with the customers I enjoyed meeting in the restaurant world. The goal is for us to know everything; if I need to go back to manufacturing, no problem, I'll go back, but talking with chefs, finding out that they're happy with the speed of our deliveries, getting their feedback on the products, and sometimes bringing back ideas to expand the range, I like that, and showing that the Huilerie is cultivating that experimental side!
---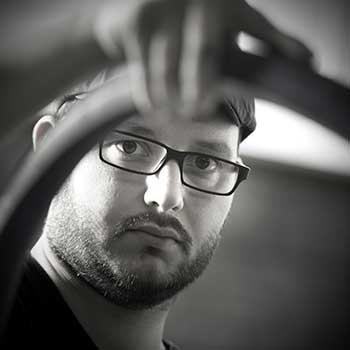 Fabien MINOT
The opportunity to work at the Huilerie came at a time in my life when I needed people to trust me, not to see me as a number. Prior to that I used to sell wine over the phone, so I was starting from scratch in the profession, but straight away I felt lucky to be working in a company that's a model for what every other company should be. When I arrived, I was told "the amount of work isn't very important, as long as it's done well". That philosophy left me speechless at the time and I still use the same approach with clients in the shop. Some are scarcely out of their cars before we're laughing and joking around with them, taking the time to have a conversation. I come from the region, and I can't stand playing a role, codifying everything. It's the sharing of what we do, the way we do it and this simplicity that I love about my everyday life here! It's the same with the older people in the village, they bring their nuts along to be processed, they tell us about the pots and pans they used to buy here when the mill was still a hardware shop. When it's our turn to introduce the public to all the noises and smells, I feel proud of our product and of our company spirit.
---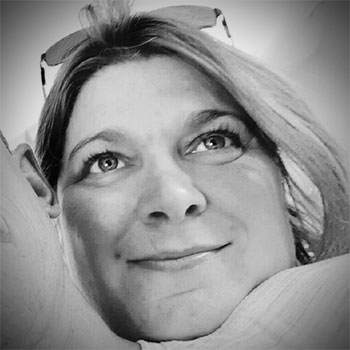 Sandrine MONTANTEME
My job at the Huilerie Beaujolaise is to take orders, deal with billing, account creation, answer the phone, transfer calls with a "hey, colleague, it's for you!" and a big smile. I never thought that one day I'd be labelling bales, oil cakes, powders or dried fruit! Being a multi-tasker is right up my alley, and here I can go as far as managing a transport need; I'm not restricted, I never have both feet in the same shoe! They threw me in at the deep end, but nicely, and it was a go right from the start: that's the mindset that I love in this company, because the way everyone gets along means staff can find a balance. When you're happy in your job, you're happy in your private life, and this is the first time I've been in a company that is so pleasant to work in. The code here is tongue in cheek! Elsewhere, people insult their colleagues when they get home; but I go home every night with peace of mind, and I'm better off for it! Especially when peanut oil invites itself onto my table; I love mixing it with date vinegar!
---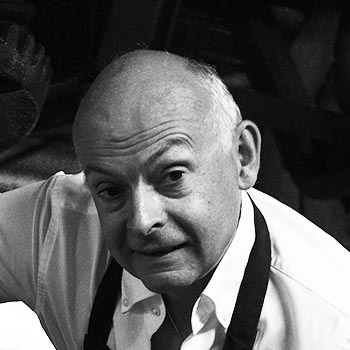 Jean-Marc MONTEGOTTERO
Before becoming an oil mill, this site was a hardware store, and even before that, a mounted police station. When I started out, there were still jail cells there, so in a sense I could easily have become a prison warden! But since there was an old oil press, I became an oil-maker! You might find this hard to believe, but the job we do is extraordinary. Beyond the various discoveries I've made, it has led me to make many really fun encounters. I remember a dinner in New York, where a chef – at a restaurant voted as the world's best at the time – bent over backwards to satisfy my passion for opera. It was late, and to get there the chef I'd been visiting to have him sample a bottle of oil managed to get his hands on a Cinderella's carriage, a Rolls Royce Phantom, and inside was a mysterious man dressed up in a Scottish outfit! You arrive there as this little French artisan and you're welcomed with such great generosity! It's this spirit of service that unites us within the profession, and I have complete confidence in my team, in their uprightness, their complementarity, their humility, to ensure that it lasts. What I wanted to achieve most through our SCOP project was to ensure the company's continuity and for each of the staff to move from being an employee to being an entrepreneur. That's also and above all my way of saying thank you to them.
---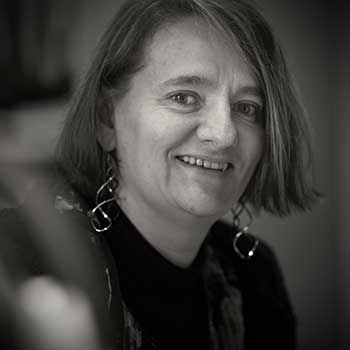 Laurence PATAUD
I first came here to modernise processes that were still being carried out "the old way", and to bring company administration up to date. I was trained by Mr. Montegottero himself and the chartered accountant. While the figures have progressed since that time, what surprised me the most given its location was discovering a company with such a broad influence, such an impressive customer list and international exports. I lived just next door, I'd even brought along my own walnuts to be processed there, and I knew that these were quality products that had nothing in common with what you might find on supermarket shelves, but as for the rest, I had absolutely no idea! I'm so happy to be part of this laid-back family atmosphere, to be a link in this value chain and to allow my friends and family to benefit, by encouraging them to switch from the consumption of industrial oils, used by default. I've even been a guide during our open house events and taken people on tours of the mill, whereas I'm not naturally the talkative type! Relying on the simplicity of our additive-free oils, at a time when people are looking for wholesome products, puts us fairly and squarely in step with the times!
---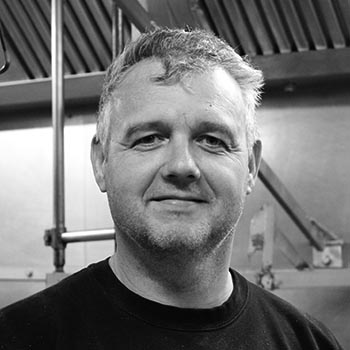 Lionel PERRACHON
I joined the company after twenty years installing fences and feeling a bit disgusted at the bankruptcies happening one after another. What's unique about this place is that each person learns the profession on the job, and you quickly gain confidence; you just have to show that you want to work to get hired! We're very versatile workers: making oil is one thing, but you also have to know how to make powders with the oil cake leftovers, how to bottle the oil, and so on! That requires independence, and some foresight for the co-workers who will take over production from you: noting down any little problem with one of the presses, finding out what's working well and not so well, and doing everything possible to ensure output! I have no concerns about our company being able to get through any difficult period, it's a solid company that makes very good products that are really well positioned on the market, and I know that's going to last! The Huilerie Beaujolaise is the only oil manufacturer where the fruit arrives, is processed from start to finish, with no preservatives or additives used, and whose end-products feature on some prestigious tables. There's no pushy selling, no one can question its quality; just taste it and you'll see!
---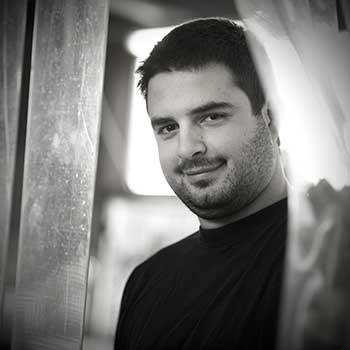 Romain PINARD
When I applied for a job at the Huilerie Beaujolaise, I was expecting anything except food oil: given the company's location, I thought I'd be dealing with oil for farm machinery engines! When this is absolutely not your world, when you're just coming out of temp work, you don't necessarily feel up to the complexity of the cycle. There's the automated side, which is very modern, but when they make peanut oil in Beaujeu, there's much more monitoring involved, and since the pressure isn't automatic, it has to be adjusted little by little, and you're playing with fire because the frying pans are made from cast iron, like they were a hundred years ago; the thermostat is the operator! I really enjoyed discovering everything, but what I immediately liked was learning all the subtle details about these nuts that I knew nothing about: there's always an odour, it's a pleasure every time to stand right over the pans and smell the hot hazelnuts, my favourite. By the time I arrive in the car park, the smell is already inside the car, and I can feel that the extractor fan is right there. What's more, Jean-Marc is kind enough to invite us to the restaurants operated by some of our customers who use our products: it's delicious, there's a burst of flavours in your mouth, and it's extremely rewarding!
---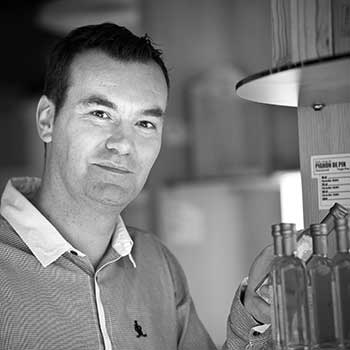 Alexandre SOUDEIL
It was a nice surprise to arrive in Beaujeu and find out that a shop as distinctive as ours existed! There's a "lucky find" aspect to it for people who are passing through, but never come by chance! Most of them came to lose themselves in the region hoping to unearth the rare gem; that's part of our folklore! I really like sharing my various tips and recipes. For someone like me, who really enjoys eating, that's part of the cultural heritage of the Beaujolais: we take clients into this Epicurean culture, given that, over the years, we've concocted a little taste discovery trail for them featuring restaurants in the region! Running the shop is about much more than being a cashier. The fact of caring for this identity has brought me some really incredible contacts, with tourists from Belgium, Normandy, and they send us thank you letters, but also with people from the region – I've even met up with my primary school teachers, when they came here with their walnuts, and friends from the hotel school, since we're in contact with all the kitchens in the area! The Huilerie has built a new mill, but we'll always keep the one in Beaujeu; in a sense we're the guardians of this living museum, the guardians of the temple!
---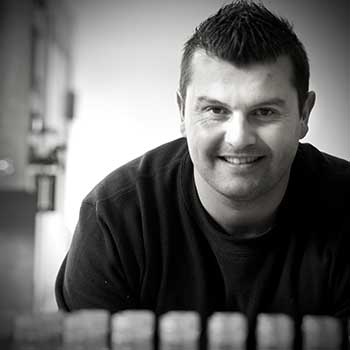 Romain ZANA
I started out with the Huilerie at the mill in Beaujeu and, frankly, from the very first week, I told myself that I wouldn't be staying! Physically, I would get to the end of the day and it was "enough!" for me: pushing the old-fashioned millstone was nothing like today's profession! But I like it so much, it's so interesting to see that a tiny sesame seed can contain oil that in the end it turned out to be a revelation! I'm very strong-headed by nature, and yet I immediately clicked with Jean-Marc: he's my boss, he's really important to me and I respect him enormously. I'm delighted that we're being given more and more responsibility within the company, and even the possibility of investing. There's no such thing as an ideal world, but I'd like us all to take more care of each other, to get involved in the events and random things that happen in life. Without taking ourselves seriously and without thinking we're the world champions, but as partners, and with a respect for what Jean-Marc built with the very first collaborators. The way I see it, this is an amazing company that has always operated well, and apart from sales, I've done everything! The machines have changed; but the quality of the oil and of the people, never.