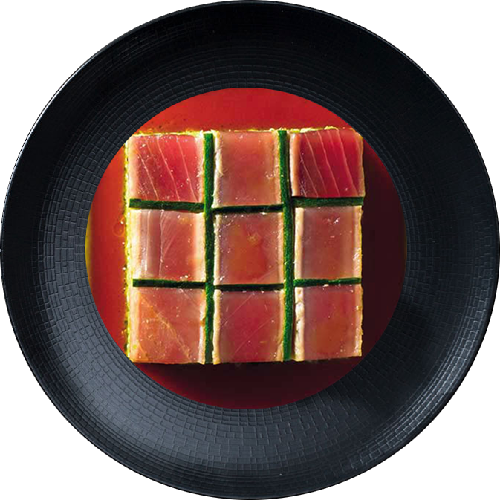 By the chef
Clovis Khoury
Checkered tuna, quinoa and tomato vinaigrette
---
Ingredients
 500 g bluefin tuna
 500 g quinoa
 2 basil bunches
 2 garlic cloves
 10 g of parmesan
Marinade
100 ml olive oil
30 ml lemon juice and zest
10 g ginger
30 ml soya sauce
1/2 sprig of lemongrass
10 coriander seeds
Salt, ground pepper
Tomato vinaigrette
4 tomatoes
1 tablespoon lemon vinegar
1 tablespoon soya sauce
1 tablespoon sugar
1 teaspoon Espelette pepper
Salt, ground pepper
---
Method
Cut the tuna into 1.5 cm cutlets and poach in salted water for 15 seconds, then remove from water and leave to cool.
Mix the ingredients for the marinade in a bowl and pour over the cutlets. Leave to marinate for around 6 hours.
Cook the quinoa in boiling salted water for 10 minutes, drain and leave to cool.
Cook the basil leaves in and salted water, remove and immediately leave to cool in ice.
Blanch the garlic cloves three times.
Place the dry basil, parmesan, garlic and virgin sesame oil in the food processor and mix until a green paste is formed.
Cut the tomatoes into quarters, then place them in a saucepan with the lemon vinegar, sugar, soya sauce, Espelette pepper, salt and pepper. Leave to cook on a low heat and reduce by half, strain the mixture in a conical strainer, pressing down and then leave to cool.
Mix the quinoa with the basil paste and season.
On a square plate, dice the tuna into small cubes. With the help of a square cutter, place the quinoa in the centre of the plate, then top with the tuna. Remove the cutter and place the sauce around the square. Serve immediately.
Bon appétit !