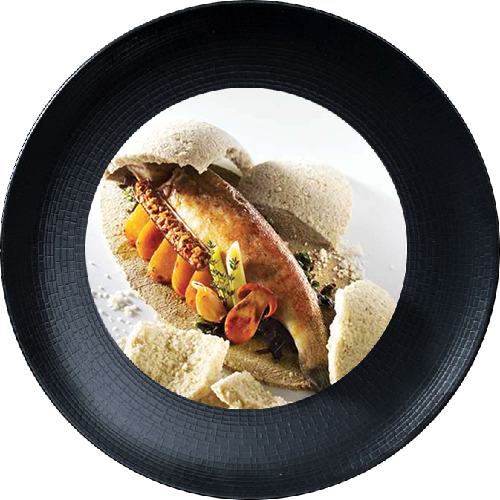 By the chef
Philippe Gauvreau
Brown trout cooked in salted hazelnut crust
---
Ingredients
Serves 4
4 brown trout
1 kg hazelnut powder
500 g plain flour
500 g coarse salt
6 egg whites
Water, thyme, mignonette
600 g white part of the leek
100 g green leek stalk
200 g mixed seaweed
200 g potatoes
1 cup of white wine vegetable broth
200 g butter
1 lemon
3 sprigs of thyme
5 garlic cloves
Salt, ground pepper
---
Method
Mix the plain flour, hazelnut powder, coarse salt and egg whites by hand or using a mixer. Add the thyme flower and the mignonette. Leave to rest 12 hours in cling film.
Cut the leeks into 4, wash, thinly slice and steam with the garlic and thyme. Once they are half done, add the seaweed for the remainder of the time.
Peel and wash the potatoes and make them into a nice shape. Cook them in a covered sautoir pan with a drop of water, garlic, thyme, salt and pepper.
Bring the vegetable broth to a boil, emulsify with the butter to the desired consistency and finish with a drop of lemon juice.
Roll the crust to a thickness of 4-5 mm, place the blanched leek leaves on the steamed leek leaves, with the fish positioned on top and the steamed potatoes around the sides. Top with the other half, bind the two pieces of pastry together with a wet pastry brush. Cook in the oven at 200 C for 15-20 minutes.
Once cooked, break the salt crust and serve.
Bon appétit !