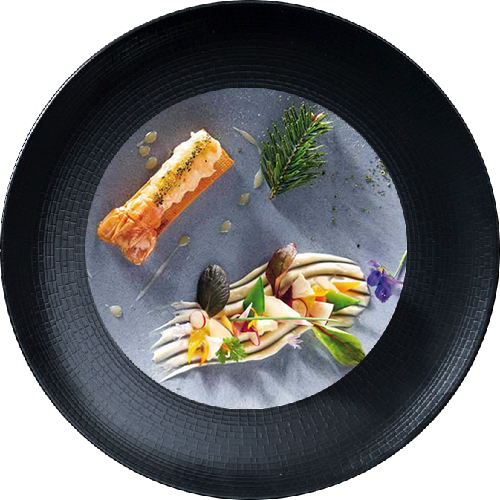 By the chef
Régis Marcon
Fir-spiced Dublin Bay prawn
---
Ingredients
Dublin Bay prawn
12 grade 16/20 Dublin Bay prawns
Honey vinaigrette
Honey
Sunflower oil
Sherry vinegar
Spices
Salt, pepper
Quatre épices seasoning (ground pepper, cloves, nutmeg and ginger), rosemary
Tip of a Douglas fir
Cauliflower cheese gratin
30 g white roux
1 kg cauliflower
250 ml cream
250 ml milk
60 g comté cheese
Nutmeg to taste
Greek style cauliflower
180 cauliflower floret tops
300 ml olive oil
200 ml lemon vinegar
Virgin hazelnut oil
Coriander seeds to taste
1 finely chopped onion, 1 sprig mixed herbs, 100 ml white wine
Cauliflower carpaccio
20 cauliflower florets
Hazelnut oil to taste
Shelled hazelnuts to taste
Decoration
Choux pastry branch with other forest decorations
---
Method
Fry the prawns just before serving.
Mix all of the ingredients in the vinaigrette.
Chop the rosemary and Douglas fir needles very finely.
Blanch the 20 pieces of cauliflower.
Make the béchamel sauce with the milk, cream, comté and nutmeg.
Stir the béchamel into the cauliflower.
Blanch the cauliflower floret tops.
Sauté the finely chopped onions, then add the cauliflower florets, deglaze with the white wine, reduce, add the lemon vinegar, the ground coriander, the mixed herbs and cook for 10 minutes.
Cut the cauliflower into thin slices.
Spread a layer of purée over a plate with a comb. Place 3 cauliflower florets on one side of the plate. On the other side, place the cauliflower carpaccio. Sprinkle a line of shelled hazelnuts in a line just before serving. Place the prawns on top of the purée. Fry. Season with honey vinaigrette. Sprinkle with rosemary, fir and quatre épices. Decorate as desired.
Bon appétit !