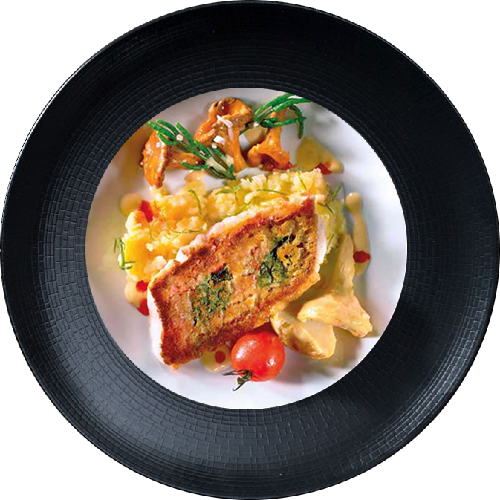 By the chef
Damien Montereau
Crusted fresh mint Mediterranean mullet Potato, girolle mushroom and salicornia mash
---
Ingredients
2 mullets (600-800 g each)
1 sprig mint leaves
4 thin slices white bread, 2 mm thick
400 g potatoes
100 g girolle mushrooms
50 g salicornia
4 baby violet artichokes
2 lemons
1 shallot
1 onion
1 carrot
1 sprig mixed herbs
1 garlic clove
15 cl white wine
100 g butter
5 cl virgin pistachio oil
---
Method
Mullet
Fillet the mullets, keep the bones to one side to make a stock (boil gently for 20 ml with an aromatic garnish and white wine).
Carefully debone the fillets, then place 2 mint leaves on the skin side and place the bread on top.
Mashed potato
Cook the potatoes in their jackets (in water, with the skin on), finely chop the shallot and 10 mint leaves and squeeze in the lemon juice.
Once cooked (check by piercing with a knife), peel the potatoes while still hot, mix in the virgin pistachio oil, 1/2 a shallot, lemon juice, mint, salt and pepper.
Mix together using a fork and taking care not to crush the potatoes.
Garnish
Clean the girolle mushrooms, sauté them in a frying pan with a pinch of shallot. Clean and blanch the salicornia (boiling water for 3 minutes, then freezing water), then mix with the mushrooms and season.
Prepare the artichokes and then place them in the lemon water. Dice the onion and carrot finely and mix. Sweat in 2 cl olive oil but do not let them brown. Add the artichokes and a splash of white wine, then add the mixed herbs. Cook on a low heat for around 15 minutes (check to see if they are cooked using a knife).
Beurre blanc sauce
In a small saucepan, sweat the rest of the shallot but do not let it brown. Add 20 cl fish broth and reduce by half. Off the heat, gradually add tempered butter, whisking vigorously. Season with salt and pepper.
Cook the mullets.
In a non-stick pan, add the olive oil at a high heat and cook the bread side. Check it has browned and then cook the flesh side. Take off the heat for 2 minutes, then decorate.
Bon appétit !