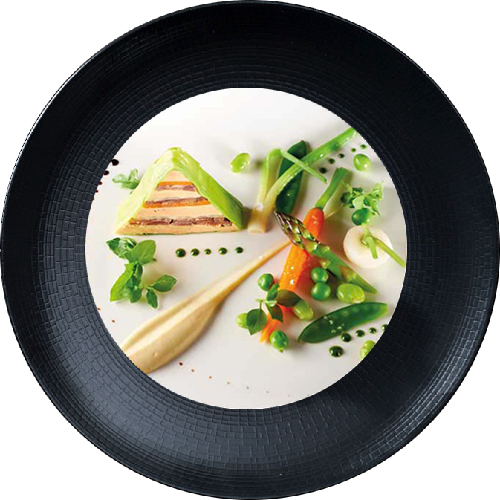 By the chef
Guy Lassausaie
Duck foie gras terrine, oxtail stew and jellied vegetables
---
Ingredients
Oxtail stew
1 oxtail
1 litre clear poultry stock
2 carrots
1 onion
1 garlic bulb
2 leeks (keep the green part)
1/2 celeriac
Mixed herbs
5 pepper kernels
Foie gras
500 g duck foie gras
8 g salt
2 g pepper
2 g ground quatre épices (cinnamon, cloves, ginger and nutmeg)
Plate garnish
1 baby carrot
1 baby turnip
1 baby leek
8 to 10 beans or peas
1 sprig lamb's lettuce
Reduced balsamic vinegar
Herb oil
Hazelnut vinegar
Dash of celeriac purée
1 bowl of steamed celeriac, to be blended in a mixer then sieved
15 cl stock from the stew
20 cl single cream
Salt, tabasco
Hazelnut oil
---
Method
Oxtail stew
Cook the oxtail and cut into slices (maximum 10 cm thick). Brown in butter with the garnish, pour over the clear poultry stock, add spices and garlic and cook for 5 hours on a low heat.
Just before the meat is ready, add the vegetables. Remove the meat and vegetables, strain the stock in a conical strainer, leave it to reduce and check the consistency.
Bone the oxtail, mix it with the stock, season and roll out on a sheet (maximum thickness 1 cm). Leave out overnight.
Leave the vegetables, carrots and celeriac to cool, then chop into thin slices (maximum thickness 1/2 cm)
Foie gras
Leave the foie gras to disgorge in cold water in the refrigerator.
Remove the nerves from the foie gras and season with spices. Keep in a cool place.
The layers will be placed in a triangular terrine. Start by laying a layer of leek leaves, add a thin layer of foie gras, then a layer of carrot, then of oxtail, then another layer of foie gras, then celeriac, then oxtail. Finish the layers with the leeks and top with baking paper. Cook for 15 minutes at 85 C and leave to cool for at least 24 hours.
Dash of celeriac purée
Balance the consistency according to the size of the celeriac and its water percentage.
Decoration
Decorate the plate with oils, vinegar and celeriac purée. Add the vegetables and slices of the terrine.
Bon appétit !