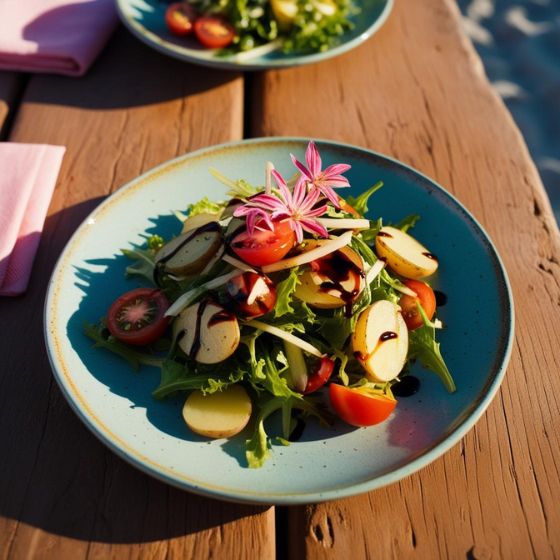 Spring garden flower and herb salad
---
Ingredients
Serves 4
1 oak leaf
1 bunch of rocket, 1/2 bunch of cress, 1 iceberg lettuce, 1 red lettuce, 1 aubergine
3 Charlotte potatoes
1 Roma tomato
Herbs: sage, oregano, fennel, parsley, chervil, tarragon, spring onion shoots.
Flowers: roses in julienne slices (thin slices), primrose petals, daisies, violets.
1 tablespoon of honey or honey vinegar
Salt, pepper
---
Method
Prepare the aubergine by slicing it into half centimetre thick slices, lengthways.
Fry with a dash or special olive oil for cooking and the honey or honey vinegar. Brown well on both sides. Place on absorbent paper.
Cut the potatoes into thin slices. Fry in special cooking olive oil until golden.
Season the salad mixture with quince vinegar and extra virgin olive oil.
Position in a dome on the plate, position the aubergine to match this, add the hot potatoes, place a quarter of the Roma tomato at the front of the plate.
Decorate with spring onion shoots, herbs and flowers.
Before serving, drizzle with virgin hazelnut oil.
Bon appétit !