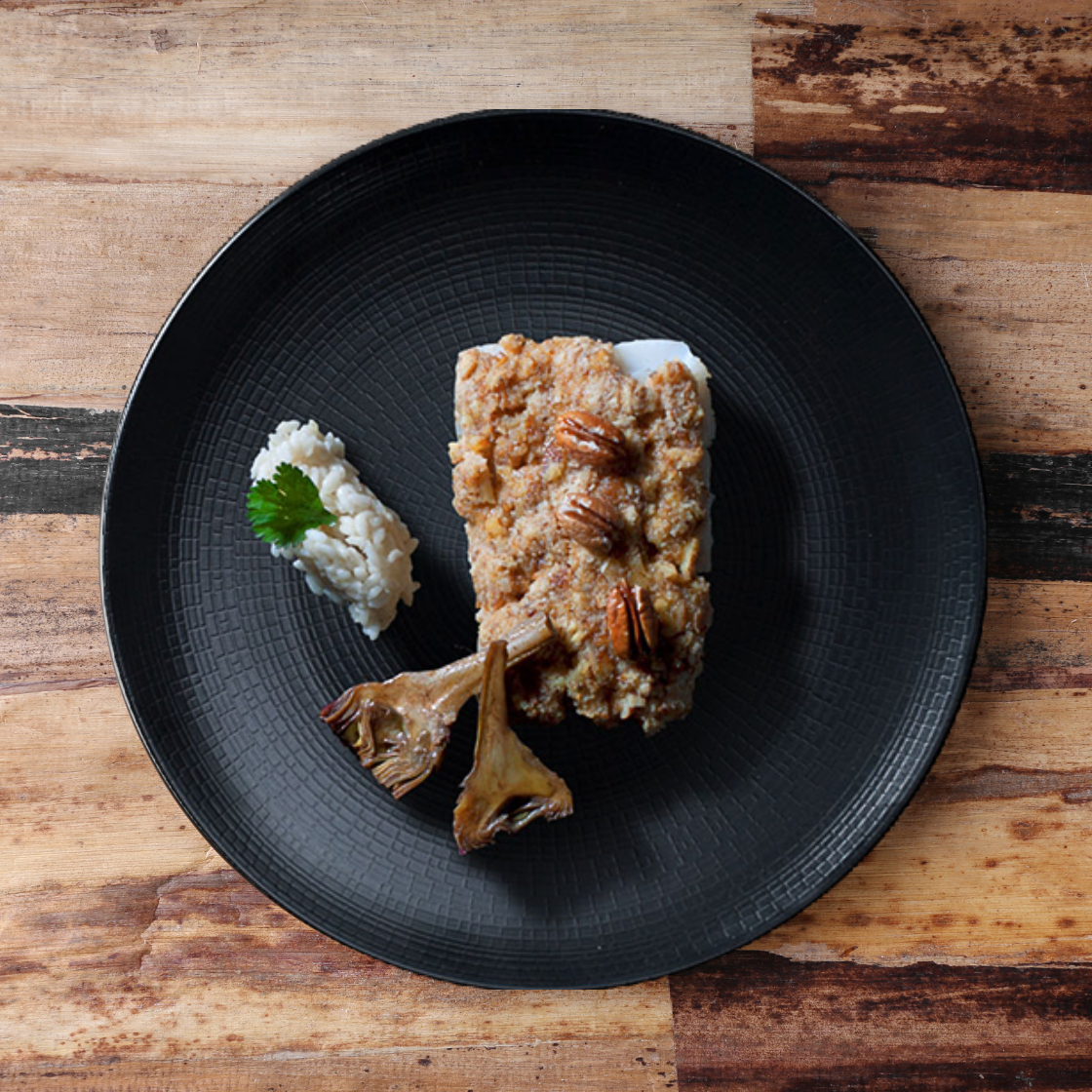 Cod fillet in pecan crust
---
Ingredients
Serves 4
4 cod fillets (or 4 sea bream fillets)
60 g sliced artichoke hearts
250 g risotto rice
20 g shallots
25 g pecans
15 g grated emmental cheese
20 g butter
25 g breadcrumbs
100 g brown sugar
2 tablespoons special olive oil for cooking
2 tablespoons "Référence" balsamic vinegar
Salt, pepper
---
Method
Preheat the oven to 210 C (gas mark 7).
For the breadcrumb coating, mix the shelled pecan nuts with the breadcrumbs, emmental, softened butter, salt and pepper.
Cut the potatoes into thin slices. Fry in special cooking olive oil until golden.
Place the cod (or seabream) in a greased oven dish, season with salt and pepper. Sprinkle the breadcrumbs over the top. Cook for 20 minutes.
In a frying pan, place the artichoke heart quarters flat, moisten the tops and season with salt and pepper.
Add the sugar, vinegar, shallots and olive oil. Cook on a high heat for 15 minutes. Remove the artichokes and reduce the cooking juices by half. Put half to one side and further reduce the remaining liquid, leaving it to caramelise.
Place the artichokes back into the pan to coat them in the juice, then serve them with the fish au gratin and a little risotto. Decorate with a drizzle of virgin pecan oil.
Bon appétit !