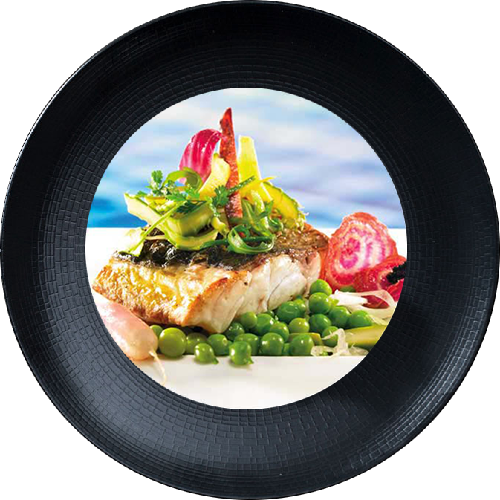 By the chef
Frédéric Berthod
Roasted wild bass in skin
---
Ingredients
160-180 g fish/person
100 g raw garden peas/person
4 radishes
3 carrots with tops/person
1 spring onion/person
1 beetroot
Salt, pepper
---
Method
Cut slits in the top of the bass fillets, season with salt and pepper.
In a hot frying pan with olive oil, cook the fillets skin side down.
Shell the garden peas.
Bring a saucepan of salted water to the boil.
Boil the peas for 4-5 minutes in the water.
Drain the peas and cool them in ice water (to keep their colour).
Wash the radishes.
In a flat saucepan, add enough water to cover the base and add a knob of butter and some salt.
Place the radishes in the saucepan; cover and leave to cook for 10-12 minutes, then leave to deglaze.
Thinly slice the onions and cook them in butter like the radishes. Slice the stems diagonally and put them to one side for decoration.
Repeat the process for the carrots.
Finely slice the raw beetroot with a mandolin. Fry in the oil at 160 C, remove and place on kitchen roll.
Mix all the cooked vegetables together to add them to the saucepan containing the radishes.
To serve, place the bass skin up. Add the vegetables, the onion stalks and the beetroot crisps.
Drizzle with virgin almond oil and season with salt and pepper.
Bon appétit !