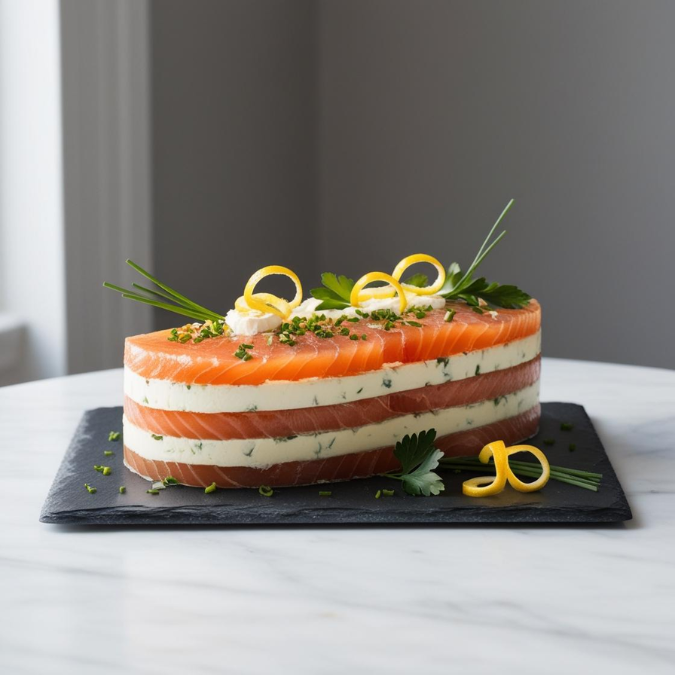 By the chef
Christophe Foulquier
Gravlax millefeuille and crunchy vegetables with a basil and citrus vinaigrette
---
Ingredients
Marinade
1.5 kg salmon fillets
500 g Guérande coarse salt
350 g sugar
60 g roasted mignonotte pepper
1/2 sprig dill
Dill salmon cream
1 litre milk
8 egg yolks
Salt, pepper
16 g gelatine
1 litre whipped cream
1/2 sprig dill
1/2 sprig coriander
Citrus fruit vinaigrette
Crunchy vegetables of your choice
Long radishes, baby carrots, chiogga beetroot, green asparagus, stuffed artichoke hearts, beetroot crisps, flowers, basil, cress, etc.
---
Method
Marinade
Combine the ingredients and marinate the salmon fillet in the mixture for 36 hours.
Dill salmon cream
Make a Hollandaise sauce.
Add the gelatine that has been softened in cold water and fully drained.
Leave to cool at room temperature.
Whip the cream and add to the mixture.
Add the dill, chopped coriander and gravlax trimmings.
Citrus fruit vinaigrette
Mix the ingredients in a blender. Put to one side. (If necessary, strain through a muslin cloth)
Assembly
Line the terrine dish with greaseproof paper.
Carefully layer a slices of marinated salmon and then the dill sauce.
Repeat this step and finish with a layer of salmon.
Keep the terrine in the refrigerator.
Chop the vegetables and place them in a frozen water bath (to make them crunchy).
Slice the terrine, finish seasoning the vegetables, present them nicely and cover with a dash of the vinaigrette.
Bon appétit !