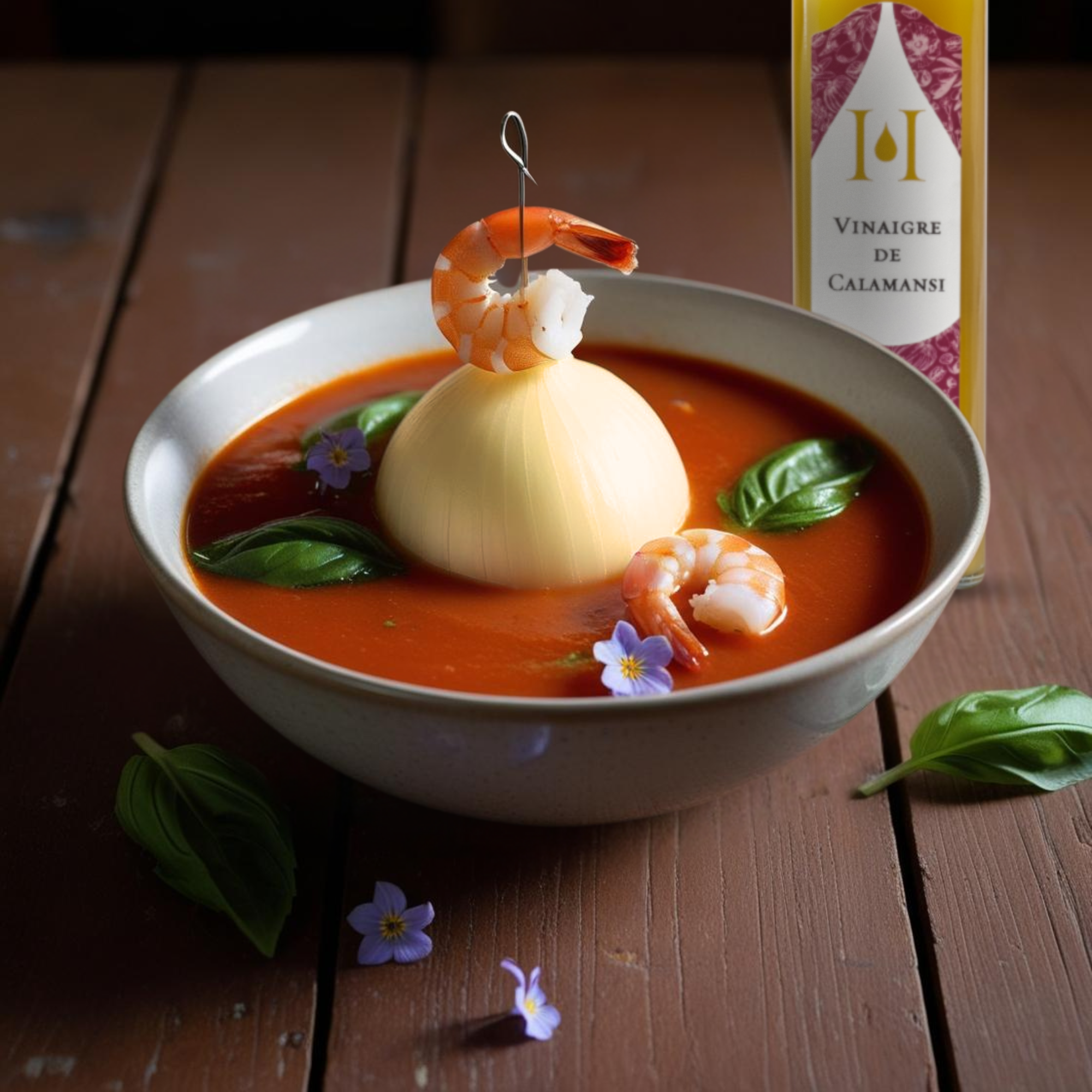 By the chef
Guy Lassausaie
Sweet Cévennes onion stuffed with Dublin bay prawn tartare and caramelised tomato, cold onion and basil soup
---
Ingredients
4 sweet Cévennes onions
500 ml poultry stock
5 cl olive oil
4 tomatoes
10 cl Nyons olive oil
Aromatic herbs
12 Dublin bay prawns
16 borage flowers
Sanshō pepper
Basil shoots
Salt, pepper
---
Method
Caramelised onion
Peel the onions and place them in a saucepan. Cover with the poultry stock, add the butter, then cover with baking paper and cook for 1 hour on a low heat.
Remove the onions, carefully remove the middles. Mix the onion flesh with the cooking juices to make the soup and leave to cool.
Crystallised tomatoes
Blanch, peel and cut the tomatoes into quarters, remove the centre of the tomatoes until you have 16 tomato petals and crystallise them with the chopped aromatic herbs in olive oil for 30 minutes at 120 C, then leave to cool.
Dice the tomatoes into small cubes and put the oil to one side.
Dublin bay tartare
Put 4 prawns to one side and dice the rest into small cubes. Season with salt and Sanshō, add the lemon vinegar and leave to stand for 2 to 3 minutes. Add half of the diced tomatoes, the olive oil used for the frying and the basil.
Stuff the onions with the tartare, add the remaining chopped tomatoes to the lemon vinegar and Sanshō pepper soup.
Quickly fry the remaining prawns and decorate.
Bon appétit !